headspace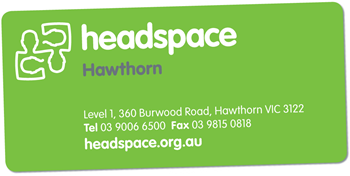 Click here for website
headspace is the National Youth Mental Health Foundation providing support to young people aged 12-25 years and their family and friends.
1 in 4 young people aged 16-24 experience a mental health or substance use disorder every year.

75% of mental health problems emerge before the age of 25.

Currently only 1 in 4 (less than 23%) young people experiencing mental health problems actually receives professional help.
headspace aims to address this by encouraging young people to seek help early at one of our centres.
headspace Hawthorn provides a range of youth mental health and wellbeing services that are all free, confidential and youth friendly.
Contact details:
headspaceHawthorn is located at Hawthorn Town Hall, Level 1, 360 Burwood Road, Hawthorn.

To make an appointment please contact us on 9006 6500.

This email address is being protected from spambots. You need JavaScript enabled to view it.

Like us on Facebook

www.facebook.com/headspacehawthorn
Alternatively to find your closest centre click on the link and enter your postcode http://www.headspace.org.au/headspace-centres
headspace Hawthorn provides a range of services including:

Doctors (GP) - for general health advice

Mental Health services - psychologists, psychiatrists, counsellors

Alcohol and Other Drug Support

Youth programs
eheadspace is a confidential, free and secure space where young people 12 - 25 and their family and friends can chat online, email or speak on the phone with a qualified youth mental health professional. eheadspace provides confidential support 7 days a week from 9:00am to 1:00am. To access this service click on the link www.eheadspace.org.au or call 1800 650 890.