BLUE DAY

AT BNA
- in recognition of mental health issues in adolescence.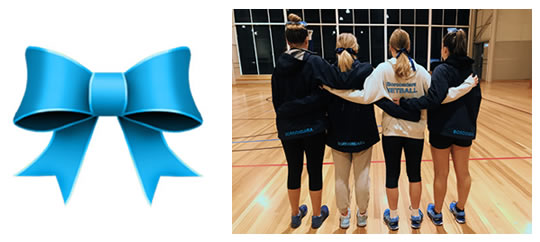 1 in 4 young Australians aged 16-24 years experience a mental health issue at some point in their lives, with 75% of mental health issues emerging before the age of 25.
However, young people are the least likely to seek help for personal, emotional or distressing problems due to a variety of reasons, such that of stigma, fear, embarrassment and lack of knowledge.
What does Netball have to do with Mental Health?
It is well appreciated and acknowledged that sport, especially team sports such as Netball, is associated with lower depressive symptoms, lower perceived stress and higher self-rated mental health, by offering opportunities for social interactions, connectedness and leadership. We, at BNA, wish to provide an environment in which promotes all aspects of personal growth, improving not only physical health, but social and mental health too. We wish to create a setting in which everyone feels welcomed, respected and included, yet we also encourage challenge, for both personal growth and to build resilience against normal stressors of sport and life.
Blue Day at BNA aims to bring awareness and education of mental health issues to our youth by encouraging conversations and discouraging the stigma.
We ask that players, coaches, umpires, parents and friends wear a blue ribbon/socks/shoelaces etc to show your support and recognition of Mental Health in our community. Blue ribbons will be sold on the day for a gold coin donation.
All funds raised from the Ribbons and Sausage Sizzle will go towards funding mental health first aid training of our volunteers, coaches, parents and players, bringing awareness, knowledge and value to our beloved club and community.
Video: Leah Fogarty, sports psychologist from Between the Ears www.betweentheears.com.au
THERE IS ALWAYS SOMEONE THERE TO HELP…
Headspace – www.headspace.org.au
Kids Help Line – 1800 55 1800 www.kidshelpline.com.au
Beyond Blue – 1300 22 4636 www.beyondblue.org.au
Reach Out! (online only) - https://au.reachout.com/
Lifeline Australia – 13 11 14 www.lifeline.org.au